The Complete Guide To Sales Prospecting
Outbound sales reps have one aim – to get meetings with quality leads.
And the only way to land these leads is by prospecting. We're talking about getting into the trenches and looking for customers who actually need your product.
But here's a reality check: sales is changing. We can't slap a roadside billboard up anymore and expect customers to come rolling in. It just doesn't work. Now, our buyers expect their sales experience to be personalized and unique. It's not easy; it takes a lot of touches to convince a lead to have a meeting, and even more effort to turn that lead into a paying customer.
There is some good news for sales reps, though. 91% of prospects don't mind engaging with a sales rep in the early stages of their buying journey. And according to an InsideSales Lead Report, 50% of buyers choose the vendor that reaches out or responds to them first.
It pays to get in first. The smarter your prospecting, the better your chances of reaching a potential customer before your competitors do.
In this in-depth guide, we'll look at:
Let's fill that sales pipeline.
What is Sales Prospecting?
Sales prospecting is a fancy name for looking through your lead pool to figure out who you can turn into a paying customer.
It's a lot like gold mining. Picture your sales reps sitting next to a river of new leads, and sifting through them to find potential customers. Usually, there are several stages a rep must go through before a prospect becomes a paying customer.
Let's break down what all they look like:
Qualification: Asking questions to determine if a prospect has a need for your product, and if they can afford it
Discovery: Finding a company's key-decision maker
Meeting: Discussing a solution with a prospect that matches their needs and fixes their problems.
Closing: Overcoming sales objections, getting a contract signed, and welcoming a new customer into your business
And all of these stages are called prospecting activities – direct efforts to convert your leads into paying customers. We're talking about outbound calling and email nurturing, as well as inbound prospecting (a.k.a when a potential customer comes to you.)
It's often during the earlier phases of prospecting when sales reps get stuck. 42% of sales pros say prospecting is the hardest part of their job, and a lot of reps struggle with coming across as a "salesperson" to potential customers.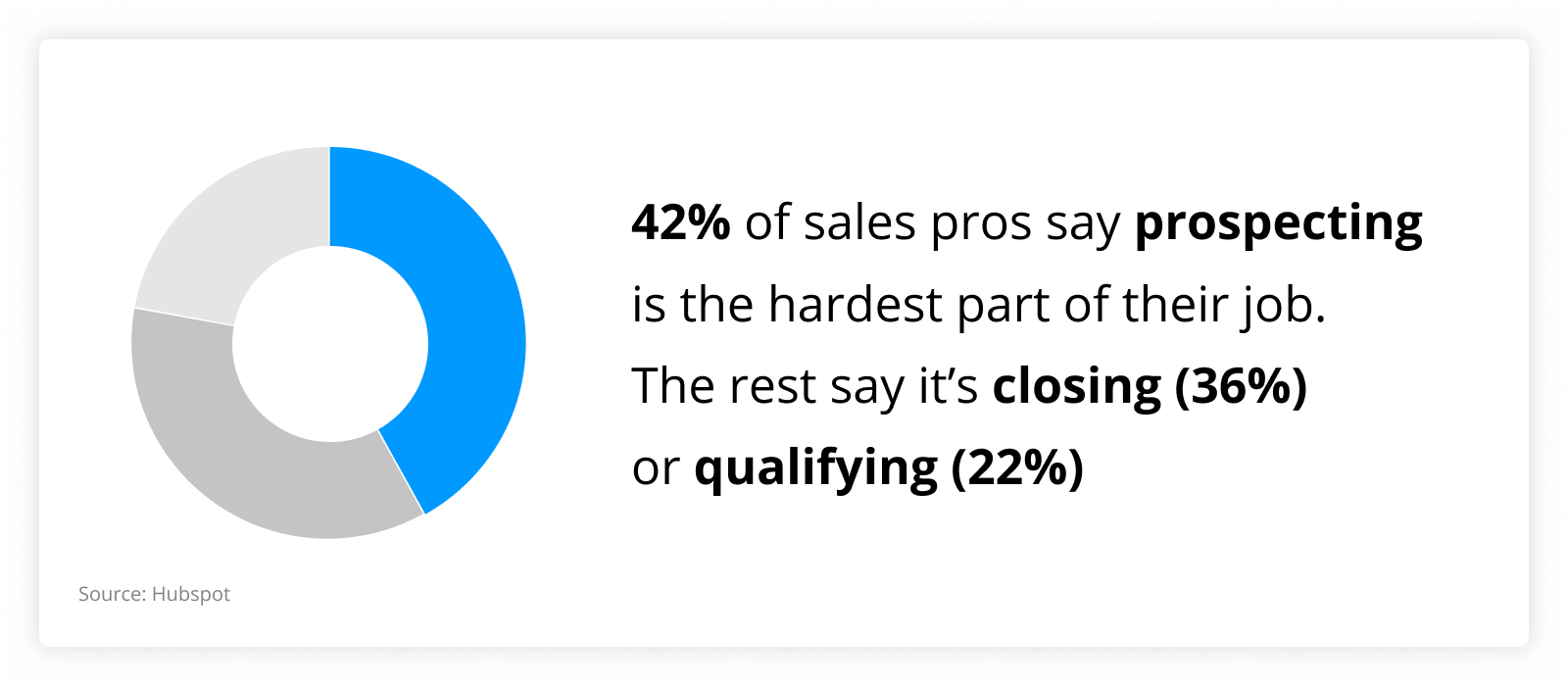 Peakon Co-Founder Kasper Hulthin says reps are often grouped in with the worst of all stereotypes: the used car salesperson. However, there's a lot we can learn from used car salespeople.
In fact, Hulthin used to be one in his dad's car shop.
"I clearly remember one customer that had taken a 5-hour train trip from Copenhagen to buy a 10-year-old Volkswagen Passat, a mid-class passenger car that he could have easily found for the same price at 10 other car shops," he wrote in an article for Forbes.

"It was a wonder to me why someone would spend this much time buying a car he could have surely purchased minutes from home, so I asked him why.

"He replied, "I did call all the other car shops, and every salesman I talked to told me the car was perfect. Your dad was the first one to say that his car wasn't."
The core message from this story for sales reps is: your prospect knows that a perfect solution doesn't exist, so if you try to sell them one you'll only come across as less trustworthy.
You might've noticed we've mentioned prospects and leads here. And you might be thinking… they're the same thing, right?
Not quite?
Sales Lead vs. Sales Prospect: What's the difference?
A lead is not a prospect. Let's just make that clear.
Leads come into your sales funnel first. And then, they morph into prospects once sales reps figure out if they need the company's product. A prospect is a lead that is more likely to turn into a buyer, so it makes sense that they're a little further down the sales funnel: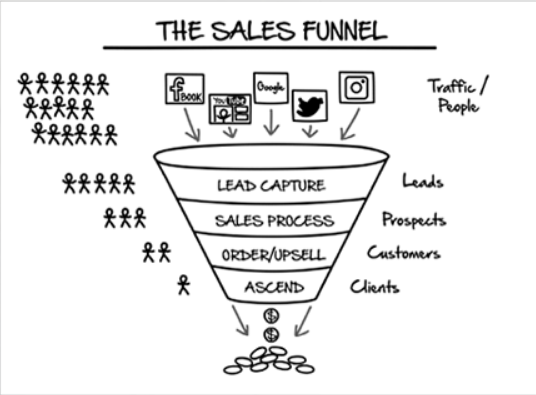 However, one of the most challenging parts of enterprise sales prospecting is finding leads worth spending your time on. According to an American Association of Inside Sales Professionals Report, nearly half of B2B sales reps feel finding enough quality leads is their top challenge:
Figuring out if a lead is qualified isn't rocket science, but it's an essential part of the prospecting puzzle. To solve the puzzle, all you need to do is ask a couple of key questions:
Does the lead match up with your ideal customer profile?
What does their company look like? (Revenue numbers, customer pool, team size, etc. )
Does their industry match up with the product or service your company sells?
Are they a geographical match for your product or service?
Are they using a product from one of your competitors? Who is it? (Pro-tip: this helps you understand if they need your product)
Have they already reached out and expressed interest in your product/service?
What would make them a bad fit for your product?
Answering these questions to turn your leads into prospects takes a bit of digging and research. However, the effort you put in here will make your job as a sales rep much easier when you go to close a deal.
Remember: There's nothing worse than trying to close a deal with a prospect who was never a good fit for your product in the first place.
Inbound vs. Outbound Prospecting
There's not just one difference between inbound and outbound prospecting…there are a whole slew of differences.
Inbound prospecting is when prospects come to you. Outbound is when you go out hunting for them.
Inbound Prospecting
Inbound prospecting relies on nurturing potential customers who have come to you.
They might've landed on your company's website through a blog post or a lead magnet. Because of this, inbound prospecting tends to have a personalized approach towards a lead.
After all, they've come to you, so there's more of a chance of them being upfront about what they're looking for. This also makes it easier to address their pain points and needs.
Key points
The prospect is in control. They have come to you, and it's their choice whether they leave.
You have drawn them in with some type of magnet. Whether that's content, a video, or social media. Figure out how they found you and use it to build trust and a relationship with them.
Pro-tip: Sales reps can get a bit of help with their inbound prospecting using automation. Outreach.io and Drift have built an integration that sales teams can use to supercharge their prospecting efforts. Using Outreach.io, sales reps can build sales sequences with a series of touchpoints built to drive deeper engagement with their prospects. Then, when a prospect clicks a link to your website, they'll be greeted with a personalized message from a sales rep through Drift. If the conversation fizzles out, the prospect can be added to an email drip to nurture them further.
Outbound Prospecting
Outbound prospecting is when you send messages out to your target audience to lure them in.
We're talking about stuff like cold-calling, email outreach, and advertising in a magazine. Basically, outbound prospecting is when your sales reps make the first move.
Key points
This type of prospecting relies on spreading awareness and cold-pitching.
Your sales reps – not the potential prospect – are calling the shots. They are ringing them at their workplace or landing in their inboxes. If it's done the wrong way, outbound prospecting can put prospects off.
How to do sales prospecting the right way
As Mark Hunter says, selling to your mother is not prospecting.
By now, you know that sales prospecting identifies potential buyers. Ultimately, it's your job to turn those potential buyers into paying customers.
If only it were that easy. ?
Sales guru Trish Bertuzzi says these days, B2B selling is anything but simple. To be successful, she says reps need to align with the way their prospects think and work. To outline the modern B2B buying process, Bertuzzi constructed The Five Whys.
Bertuzzi says by looking at the sales process this way, we can appreciate just how much effort it takes to make a move from prospect to customer.
"We can also appreciate what a journey prospects have to make from "unexpected sales call" to "this is something I want to pursue" and finally to "replacing the status quo," she says.

"Regardless of what you're shooting for—an introductory meeting, technology demo, or fully qualified opportunity—your reps' first hurdle is to arouse curiosity and get prospects to listen."
So, as a rep, how do you get from a lead to a sale?
The 6-Step Sales Prospecting Process
Step 1. Research
The first step of prospecting is painting a picture of what your ideal prospect looks like.
This step is super important in making sure each potential prospect is the right fit for your product. To figure all this out, ask yourself:
Do our current customers have a pattern?

Company size
Geographical location
Industry

What problem does the potential customer have that our product fixes?
Have we closed similar deals in the past?
What were their main purchasing barriers and how long were their buying cycles?
The aim here is to build an Ideal Customer Profile (ICP). To do this, dig a little deeper and use account-based marketing tactics such as gathering more firmographic information on a prospect's company like:
Industry
Annual revenue
Location(s)
Number of employees
Current customers
Competitive product or service offering
Technology use
Current pain points
It's here that you'll start to build a crystal clear outline of what your ideal customer looks like. This step is also about finding the potential prospects that aren't a good fit for your product. Only keep a prospect in your sights if they can tick these three boxes:
☑️ Your product meets their needs
☑️ They have the budget to afford your product
☑️ Their purchasing behavior matches up with your sales cycle
Although this step is crucial, Lori Richardson from Score More Sales says reps shouldn't be spending their call time researching prospective customers. Richardson says when it comes to your selling day – every minute counts.
"Don't waste minutes, or even hours in some cases researching at the wrong time when you could be reaching out to those people that can help you have or actually have an important conversation that unearths valuable insight about your buyer," she says.
So, how can reps research quickly without wasting sales time? Simple: buy an egg timer ?
Yep, an egg timer. Richardson says a three-minute timer will do the trick, and you should never research during calling hours for longer than it runs.
Step 2. Identify the company's key decision-maker
Next, find the person in a company who has the power to buy your product (hint: this isn't the admin assistant.)
They're known as the key decision-maker, and this person is your target prospect. They're important because they're the one who cuts the company's checks. It can often take several touches to get through to someone at the company, let alone the person you're aiming to speak to.
Thanks to tools like LinkedIn's Sales Navigator, finding a company's key decision-maker isn't as painful as it used to be. You can narrow down your search by plugging in details of your target prospects based on their:
Company name
Company size
Company position
Location
Industry
Seniority
Now you can see why step #1 was so important.
It might be wise to spread your search beyond a single decision-maker. It's rare for one person to hold all the power to a company's checkbook. Enterprise sales have an average of 17 people involved in the decision-making process, so it makes sense to widen your prospect net.
Find a couple of people at the company who fit your ICP, and save their information.
Sell More. Faster. Author Kim Orlesky says there's also another person that's involved in this part of the prospecting process—a company's influencer. Although this person isn't the one cutting the check, building a relationship with them is a smart thing to do.
Orlesky says when reps are calling or emailing, they can tailor their pitches for the company's decision-maker and influencer.
"On one hand, the Influencer can be as involved, if not more, and you'll often work with them throughout the process," she says.

"They'll provide the information you need and disseminate the meeting details up to the chain.

"Bear in mind that it's still important that you build a strong foundation for both these people as well as with other possible individuals involved in the decision."
Step 3. Reach out and set up a meeting
The next step is setting up a meeting.
Whether you reach out over email, phone or LinkedIn, your prospect must know the meeting isn't about you selling them stuff. The only thing you should be doing in your meetings is showing your prospects how your product will help them.
Eventually, you'll sell your company, your product, and yourself as a trusted partner. But first, you need to convince your prospect to make room for you in your calendar. (Don't worry, we're going to get into this a little further down in the prospecting techniques section.)
Sales meetings are typically held in two arenas: in person, or on a video call. The easier it is for your prospect to book a meeting, the more likely they are to follow through (duh!). If there's too much friction or your calendars don't match up, it can put your meeting in jeopardy. ?
A scheduling app like Drift Meetings can automate this part of the prospecting process. The app books meetings with your most qualified leads when you're not around. It's smart enough to recognize when a qualified lead lands on your website and prompts them to set a meeting with a rep. Easy.
Nice to know: The app also integrates with Google or Office 365 calendars, so any booked meetings will instantly appear on your schedule.
Step 4. Go into a meeting with the right sales ammunition
The best way to approach a meeting with a prospect is to prepare, prepare, prepare.
Yet, the majority of sales reps fall short at this point in the prospecting process. Forrester estimates 70% of salespeople aren't prepared to answer questions from prospects during a sales meeting. And 77% of salespeople don't fully understand their prospect's problem when they step into the meeting.
Don't be a statistic. Go into your meeting with:
? A tailored sales pitch built specifically for the prospect
? Knowledge about your customer's biggest pain points (and how your product will solve them)
? An idea of what questions/objections you're going to have to handle. Your prospect will likely have some questions and concerns, so preempt what they might be
The easiest way to do this is to ask great questions before the meeting. Try and get to know your prospect as much as possible before you get to this point in the process.
The secret sauce to your sales meetings: Drift Meetings
Every sales rep is pushed for time. In between prospecting, researching, and following up, it's hard to find a way to prepare for meetings. With Drift Meetings, everything you need to deliver a personalized buying experience for your prospect is handled automatically.
Drift Meetings can:
Help with meeting prep: Before a meeting, Drift Meetings will email you all the info you need to know about the prospect like their prior meeting history, website history, and past sales engagements
Help you follow up: If a prospect pulls out of a meeting or cancels a demo, Drift Meetings will remind you to follow up with them to keep the relationship alive
Help with everything post-meeting: If you don't follow up with a prospect within 24 hours after a meeting, Drift Meetings will nudge you and tell you what you should do next
Step 5. Fully understand the prospect's needs (like, really)
Don't try to close bad-fit sales prospects.
It can lead to a bad experience for your customer and push your company's churn rate through the roof. It's your responsibility to only bring in customers that'll benefit from using your product (oh, and those who are ready to purchase.)
Sales Strategist Marc Wayshak says one of the biggest time wasters for salespeople is following up on prospects who were never a good fit in the first place.
"Ask effective questions to understand if this individual is in fact qualified for your product or service, and if the prospect is not, then you should move on. This will free up your time more than anything else that you can do."

– Marc Wayshak
In your meeting, do your best to figure out what your prospect needs and if your product can help them. If it's not a good fit, there's no shame in cutting the prospect loose.
Step 6. Finally, close the deal
The final stage is closing the deal. You know, getting that contract signed. Poppin' that champagne ?
While this is the most crucial stage of a deal, it can also be the most difficult. It's here where a prospect is likely to throw out some sales objections. Salesforce's Tiffani Bova says sales objections usually fall into four categories: budget, authority, need, and time (also known as BANT.)
And Bova says you should be prepared to discuss each of them.
"The key here is to show you understand their concern, and offer possible ways to overcome those hurdles. Does the target audience currently have a competing product that is similar? If so, highlight the features that differentiate your product. Do they not have budget this quarter? Talk to how much money your product can save them. Over time, you'll hone your objection-response based on the feedback you receive in face-to-face sales meetings."

– Tiffani Bova
Once you've nipped the objections in the bud, outline the next steps for your prospect. Let them know what their trial period will look like, and when they can expect your contract to land in their inbox.
And, you're done ?
4 Sales Prospecting Techniques That Work
Now that you're clued up on the prospecting process, what are some techniques you can use to fill your pipeline?
1. Use Conversational Marketing
Conversational marketing is the best way to start real-time conversations with leads.
With conversational marketing, you can build a 24/7, automatic portal to get more prospects. When we talk about conversational marketing, we're also talking about chatbots because they're a key component of any solid conversational marketing strategy?
The right chatbot can talk to leads just as effectively as a human, and qualify the ones who tick all your boxes.
Handing over the inbound qualifying process to bots frees up a ton of time for sales reps. After all, the bots are asking the same questions you would've been asking a lead on a call or email anyway. Using chatbots, the only people in your sales pipeline will be qualified prospects.
An example of Drift qualifying leads before a human gets involved in the conversation
Marketo's former Chief Growth Officer Jill Rowley says conversational approaches to sales makes the buyer the key driver of action–not the sales rep.
"People want to have conversations about themselves: their problems, their goals, their business, their aspirations, their world. As a buyer or prospect, why would I want to start a conversation with you about… you?" she says.

"People want the conversation on their terms – where they want to have it, and when they want to have it."
It doesn't get more simple than that.
Let's take a look at how conversational marketing works in real-life.
Field-tracking CRM SalesRabbit recently introduced Drift's conversational marketing into their prospecting toolkit. The company's sales team is made up of just a few reps, so it was vital to maximize their time to book as many product demos as possible.
Before SalesRabbit discovered conversational marketing, they were stuck in a form-submission vortex. After a form was filled out on their website, a sales rep would send a follow-up email to book a meeting. This often led to several back and forths, and their prospects would either lose interest or forget to reply at all.
So, what were SalesRabbit's results using conversational chatbots?
40% more demos with Chatbots
84% more sales productivity
50% more qualified leads
The biggest change for the company was having meetings with prospects automatically booked on their sales team's calendar.
"It was a welcomed change. The sales team was now spending more of their valuable time working demos and less time playing phone or email tag to schedule those demos."

– SalesRabbit Senior Director of Digital Marketing, Ben Nettesheim
2. Pick up the phone
According to a Baylor University study, experienced sales reps spend about 7.5 hours cold calling to land a single qualified meeting. Let's break that down: it takes, on average, 209 calls to land one meeting.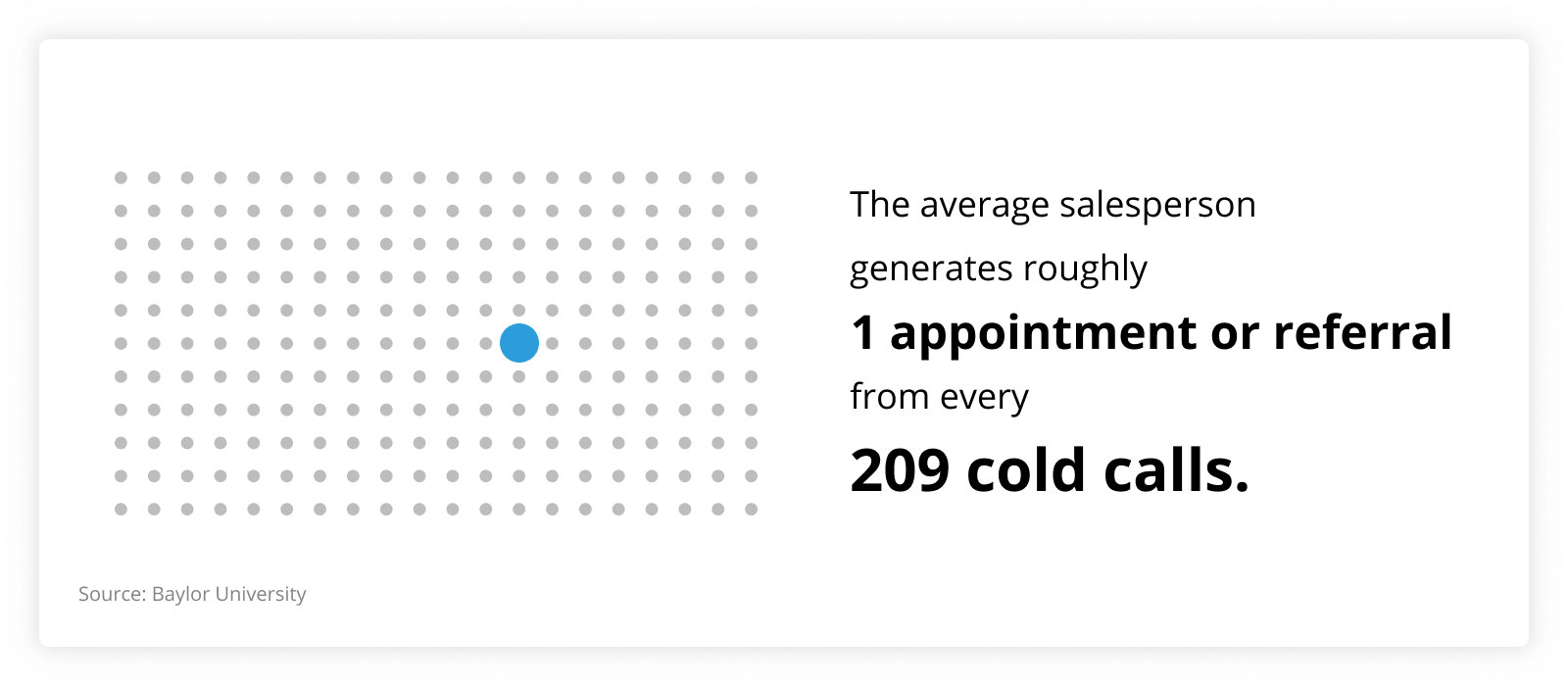 But here's the schtick: love it or hate it, cold calling still has a place in prospecting. It's how you go about it that will determine if you book a meeting (or get hung up on.)
Insight Business Consultants President Liz Wendling says a successful cold call can be broken down into five elements:
Research: The prospect and the company as a whole. This helps you make assumptions that a prospect needs what you're selling. Wendling says spending a few minutes on research will yield big results.
Ask: The first question you ask a prospect when you cold-call should be "have I caught you at a bad time?" – If they're willing to stay on the line, ask your prospect questions about what they need and what's important to them. Wendling says if you don't, it can come across that you're just calling for the sale, your quota, and your paycheck.
Listen: To your prospects answers. If they've got something to share with you, let them. Don't talk over the top of them with a sales pitch. Wendling says you have two ears and one month; use them accordingly.
Don't: Tell your prospect you'll be in their area. It's cringe-worthy and so 80s. Wendling says it's better to be honest and ask the prospect if they're interested in meeting with you.
Honor: Your words. Keep every promise you make in your cold call. Whether it's following up with an email or calling back at another time. Wendling says if you don't, it's a deal-breaker!
"Cold calling doesn't have to be a painful experience for you or the person you're calling," she says.

"If your calls are going nowhere and you keep getting the same dreary reactions and results, then your approach is off."
3. Aim for a prospect's inbox
Before you aim for an inbox, you're going to need email addresses for your prospects.
Thankfully, there are simple ways to find them. Tools like Hunter.io can track down your prospect's email address based on their company's domain name.
Once you've got a hold of your prospect's email address, the next question is, what makes up a good lookin' outbound email?
Let's get the bad stuff out of the way first. Roughly a quarter of all business emails in America are marked as spam or fail to reach the inbox they were aiming for. One of the main culprits is using a company email address rather than own business email address. Other factors like poor subject lines and incorrect email addresses play a big part.
Keep these issues in mind when you're sending out emails to prospects.
Onto the good stuff. There is a single way to make your emails stand out when you're sending them: make them personalized. Personalizing emails doesn't have to take hours, either. You can boost your chances of getting a response from a prospect by:
Mentioning a recent announcement or news article that featured the company
Linking to something on their website and ask them a question about it
Finding a problem with something on their website or social media channels. This might be a spelling mistake or a broken link. Anything that shows your prospect you want to help them
Mentioning something you like or admire about their company. Maybe they've recently released a new product or hosted a successful event. Whatever it is, find something relevant
Chorus.ai's Head of Sales Development Becc Holland says when she first taught her team how to write a personalized email, they received positive feedback from their early recipients. When her colleagues asked her what they were doing differently, her answer was they were sending out personalized messages every time.
Holland says prospecting through mass e-blasts are a thing of the past. This is because the message isn't relevant or personalized.
Before you send an email out to a prospect, Jill Konrath recommends a three-step check:
Self-evaluate: Send the email to yourself, then read it "as if" you were your prospect. Be brutally honest with yourself. Would it pique your curiosity and get you to respond? Or, would you delete it?
Ask a trusted client for feedback: Send the email to a client – someone who already knows you and roots for you. Ask for honest feedback.
Use it on real prospects: Don't worry if it's not perfect – just treat it as an experiment. Always be thinking about ways to improve your message.
4. Find prospects on LinkedIn
LinkedIn is a prospecting playground.
The LinkedIn Sales Navigator Tool (which we mentioned earlier) is an easy way to search for prospects based on your ideal customer profile. This helps you figure out who the company's key decision-makers are as well as gather up more information to qualify your prospects.
The tool also makes lead recommendations for you based on your prospecting activities: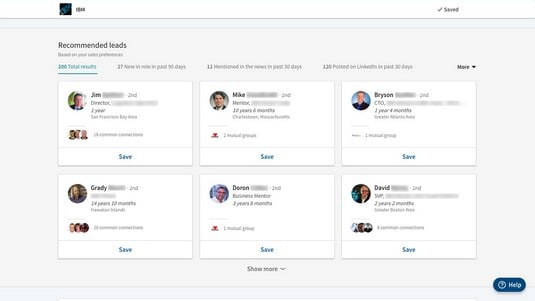 You can also try your luck using LinkedIn Groups. They're a hub professionals use to connect with others in the same industry to build valuable connections. It's a useful tool for "long game" prospecting, where you can build up trust in groups where professionals are sharing their insights and asking for guidance.
Pro-tip: Using Drift's LinkedIn Sales Navigator Integration, you can follow up on any chatbot conversations on LinkedIn. If a promising prospect disappears during a conversation, the integration makes it easy to send a follow-up message via InMail straight from Drift.
Once you've connected on LinkedIn, you'll be able to continue building your relationship using chat and email to get that meeting booked.
Sales prospecting KPIs (and why they're important)
"What you don't measure, you can't improve."
The most successful sales organizations out there are the ones who track their efforts. Key Performance Indicators (KPIs) give your prospecting efforts clearly defined goals to reach. Yet more isn't always better when it comes to KPIs. A Harvard Business Review study found only 14% of sales metrics are manageable. That means out of all your sales activities, only 14% of them are things your team can change and act on.
Tracking sales prospecting KPIs that you can act could be activities like:
Number of meetings booked / held
Number of new sales qualified opportunities
Calls and emails per rep (daily, weekly, monthly)
Deal sizes
Win rates
However, B2B growth expert Ian Altman says while measuring the volume of your prospecting activities is simple, it doesn't always lead to results.
"You can better track a rep's likely effectiveness when you look at other, lesser-known performance indicators," he says.
These "lesser-known" KPIs, Altman says, are made up of three key activities:
Number of call attempts: how many attempts are they making during each given time period?
Conversations: How long or short is each conversation?
Frequency of contact: How frequently does the rep reach out to the prospect?
All of these KPIs are important to measure because they have a single focus: they measure what your sales reps are doing to close more deals.
Now, it's your turn
Prospecting may be the part of the sales process that most reps struggle with, but it doesn't have to stay that way.
If you drop the unnecessary KPIs and look outside the box at newer prospecting techniques (we're lookin' at you, conversational marketing ?), prospecting can be fun. Dare we say it: it can turn into a super rewarding part of your job.
The hardest part is knowing what prospecting style is suited for your company. The only way to figure this out is to start testing the waters. Personalize those emails, start tightly qualifying your prospects, and experiment with techniques like chatbots.
Keep changing up your prospecting process until you find a system that fits your business. You'll be rewarded with more prospects that actually need your product, and of course, more paying customers for your business!