Following a linear marketing strategy that stops at the purchase means you're leaving some serious cash on the table. After all, it's those brands that focus on retention, loyalty, and advocacy that set themselves up for lasting success–with the bottom line to prove it.
Customer lifecycle marketing is a strategy that businesses use to prevent customers from reaching the end of their journey, and instead, aims to function as a continuous loop that gets customers to continue their relationship with a brand.
In this article, we'll explain what customer lifecycle marketing is, how it works, and what it looks like in action.
What is Customer Lifecycle Marketing?
The customer lifecycle is a term used to describe the different steps a customer goes through as they learn about a product, make a purchasing decision, and remain loyal to a particular brand.
Customer lifecycle marketing is a marketing strategy that involves studying the whole customer journey on a holistic level, moving from the first point of contact, nurturing leads through the buying cycle, then post-purchase focuses on deepening the relationship to ensure long-term loyalty and repeat purchases.
It's important to understand that customer lifecycle marketing is designed to work across multiple platforms and is designed to approach marketing across the entire customer journey.
As such, marketers should turn away from strategies that focus on separate demand generation campaigns, and move toward an always-on approach with messaging that aligns with the various touchpoints in the customer journey.
Optimizing Your Marketing by Lifecycle Stage
Developing a customer lifecycle model requires you to plan your content, paid advertising, and promotional strategies around your company's unique purchase funnel.
To start, you'll want to establish a strategy based on each of the customer lifecycle stages and the touchpoints within each stage to identify and fill any potential gaps.
Here's a quick breakdown of each stage:
The Awareness Stage
Here, your goal is to build awareness for your brand using top-of-the-funnel content, PR tactics, social media, and paid search marketing.
Your communications should focus on making a great first impression, introducing your solution to people who may be completely new to your brand or the type of products/services you provide.
Here are a few questions you should address at the awareness stage:
What products or services do you offer?
What problems do you solve?
Who do you help?
What solutions do you provide?
Why should your audience care?
The Engagement Stage
At the engagement stage, things start to pick up a bit. Here, you're speaking to an audience that already knows a bit about your brand. This group knows enough about your product/service that they may consider buying it, but need more information first.
For example, you might be talking to someone who knows they need marketing automation software but doesn't have a good sense of which features bring the most value to their business.
At this stage, your focus should turn toward helping prospective buyers envision how your solution will benefit them.
Strategies include:
Case studies
White papers
Testimonials/ Reviews
Emails highlighting features/benefits
Ultimately, you want customers to understand:
What, exactly you offer
How customers can use your product
Why customers should care about your solution
Here are a few questions you should address at the engagement stage:
What are the key benefits of your product/service?
What features do you offer?
How can customers use your product?
What can people gain from investing in your solution?
What will they lose by ignoring this offer?
CMO Secrets Revealed
We got 7 CMOs to spill their best marketing secrets. Here's what they had to say.
The Decision Stage
At the decision, or evaluation, phase, you're nearing the end of the traditional marketing funnel and moving closer and closer to the close. At this point, the buyer is weighing their options and comparing your brand to other solution providers.
Here, customers are likely spending their time combing through reviews, reading up on the different features and pricing options, and trying to determine which company offers the most compelling value proposition.
Here, strategies shift toward the following:
Providing detailed evergreen content that digs into specific features/use cases
Focusing on generating reviews and testimonials
Targeting paid search terms that reach buyers during those final research stages
At this stage, the end-game goal is to ensure that you've made it easy for buyers to find everything they might need to make that final decision. Address objections, answer questions, show users how they can make the most out of your product.
Here are a few questions you should address at the decision stage:
What do customers need to know before making a final decision?
What risks/objections need to be considered?
How can customers make the most out of their purchase?
The Purchase Stage
The purchase stage represents that crucial moment when a buyer becomes a customer. Here, you're doing less work than any of the stages before or after that point of purchase. However, you'll still need to nudge your audience in the right direction.
Where paid ad strategies at the decision stage should focus on helping your audience gain a deeper understanding of your product/service, purchase phase ad strategies shift toward keywords such as "buy X online," or "where to buy X." In other words, these are high-intent terms that aim to reach that small group ready to take action ASAP.
Here are a few questions you should address at the purchase stage:
What do customers need to know before making a final decision?
What risks/objections need to be considered?
How can customers make the most out of their purchase?
The Post-Purchase Stage
At this stage, brands need to focus on ensuring that users successfully adopt your solution.
Using data sourced from your customers, as well as email marketing and social media engagement, brands can continue to make improvements to their products, services, and overall experience by incorporating feedback and personalizing communications.
Here are a few questions you should address at the post-purchase stage:
What do customers need to successfully adopt this solution?
What potential problems might they run into?
What other products/features/services could customers use?
When will customers need to make a second purchase?
How can you offer a better customer experience?
The Customer Advocacy Stage
At the "end" of the customer lifecycle (in quotes as, ultimately, the goal is that this relationship never ends) you have advocacy.
All other stages, both pre and post-purchase lead to this point, and provided that everything is set up right, your customers become brand advocates who drive leads and generate awareness by spreading the word about their positive experience.
In the end, you might look at the customer lifecycle experience something like this (keep in mind–everyone has a different set of names for the stages in the lifecycle):
5 Examples of Effective Lifecycle Marketing
We'll be honest, customer lifecycle marketing strategies basically look like any other marketing strategies. Here, we'll go over some examples of how those familiar strategies fit into the customer lifecycle.
1. Overstock
In this example, Overstock uses email to connect with people who signed up for a new account during the "consideration" stage. The email aims to sweeten the deal with a "welcome" discount and highlights the benefits of joining the site's loyalty program.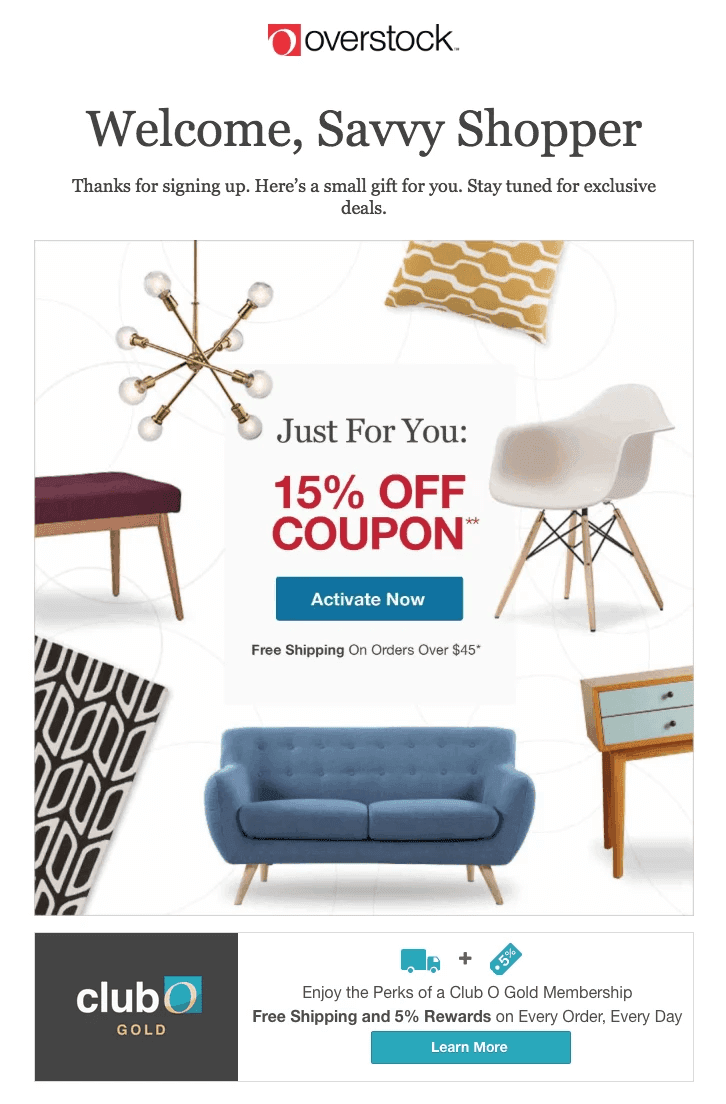 2. Just Eat
In this example from the food delivery service, Just Eat, the brand confirms an order via email. What the brand has done well is provided everything the customer needs to know in regards to their order–total, order summary, an acknowledgment of any notes submitted, etc.
Pretty standard fare, but Just Eat goes a step further, launching into the "post-purchase" engagement stage by including a CTA for a survey.
3. Hotjar
In this example, Hotjar caters to users during the evaluation stage with a comprehensive blog post that compares its product to a similar one–Fullstory.
Here, the brand has done a nice job remaining (relatively) unbiased, aiming to give readers an in-depth breakdown of what each service provides and who should use each one. Marketers might use something like this, combined with paid search or social ads targeting consumers during this final research stage.
4. Southwest
Another post-purchase strategy comes via Southwest Airlines. In this example, the company follows up with the customer regarding an upcoming flight using a personalized email to encourage the reader to book a hotel.
If the customer hasn't already made arrangements for the trip, this is an easy win for Southwest, as it locks in the upsell. Additionally, the page highlights the airline's loyalty program which allows customers to earn points on "experiences," which includes travel activities you might book for your trip.
5. Starbucks
There's a reason that Starbucks is the gold standard for customer loyalty programs. Its app, combined with personal emails and free offers provides users with a seamless experience that spans both physical and digital worlds.
In this example, you'll see that the Starbucks app uses gamification to keep audiences engaged with the brand, using language like "X stars until your next reward."
Final Thoughts on Lifecycle Marketing
In the end, customer lifecycle marketing is really just, well, marketing. All of the strategies used throughout the journey are familiar ones– automated email marketing, social media, blog posts, ads–but the key thing to keep in mind is that the content type, campaign objective, and message you use aligns with the customer's goals, values, and intent at each touchpoint.
The 2020 Marketing Leadership Benchmark Report
Drift surveyed 100+ marketing leaders to shine a light on the tech, talent, and trends defining marketing today.