It doesn't matter what you sell or what industry you're in, your business can't grow without a steady stream of qualified leads.
But, for inbound sales teams to capture the most value from those leads, they must have a well-defined lead management system in place, along with the proper tools for putting that strategy into action.
In this article, we'll explain what lead management is, what's included in a lead management system, and what types of tools you'll need to get the best results.
What is Lead Management?
Lead management is defined as the process of capturing, qualifying, and nurturing leads, then handing them off to the sales team. While it may sound simple in practice, many organizations don't have any formal lead management system in place.
Done right, lead management systems can fill your pipeline with qualified, informed buyers while helping the sales and demand generation marketing teams gain a deeper understanding of what buyers are looking for.
A New Funnel for a New Decade
New decade, new marketing & sales rules. Lessons from Drift, Narrative Science, LeadIQ, Gong, Demandbase, and Forrester.
What is in a Lead Management System?
A lead management system systematically defines who you're targeting, how leads move through the pipeline, and what criteria determine whether a lead is qualified or not.
A lead management system typically includes the following stages:
Lead Identification
The first step in developing a lead management strategy is determining who your potential buyers are so that you can easily identify where they are in the sales process and what they need at that moment.
Start by gathering the following information:
Demographics
Look at the location, role, industry, company size, and experience of your existing clients. What do your best customers have in common? These characteristics should be used to build a foundation for your target personas.
How do your customers' demographics compare with the leads you currently have in the pipeline?
Additionally, look at the demographic information for past deals that fell through–are there any patterns that emerge? What about clients that churned relatively quickly? What made them change their mind?
Lead Source
Which channels are delivering the highest share of leads? Are they coming to your site through paid search ads or social media posts?
What searches are they using to find your site–branded search queries or general searches for a specific solution? How does your messaging compare across different channels–are some more effective than others?
Lead Behavior
How do people interact with your content? Look at page visits, downloads, search queries, campaign performance, etc. Are people exploring your website using internal links or are they searching for the information they need via Google?
Map Out Your Sales Process
Once you've defined who you're targeting, you'll want to then document how your leads progress through the funnel.
Document the actions associated with each stage from their initial point of entry to close.
At this stage, sales, marketing, and the leadership team should work together to refine those steps.
Here's an example from Gartner's report on the New B2B Buyer's Journey that demonstrates just how complex the journey can be.
Lead Generation
Lead generation is a series of tactics used to attract potential customers and convince them to share their contact information so that marketers can target them in later campaigns.
Strategies span a wide range of campaigns and content, applied at different stages in the sales funnel.
According to Salesforce, the most effective lead generation strategies include events, the company website, SEO, and email marketing.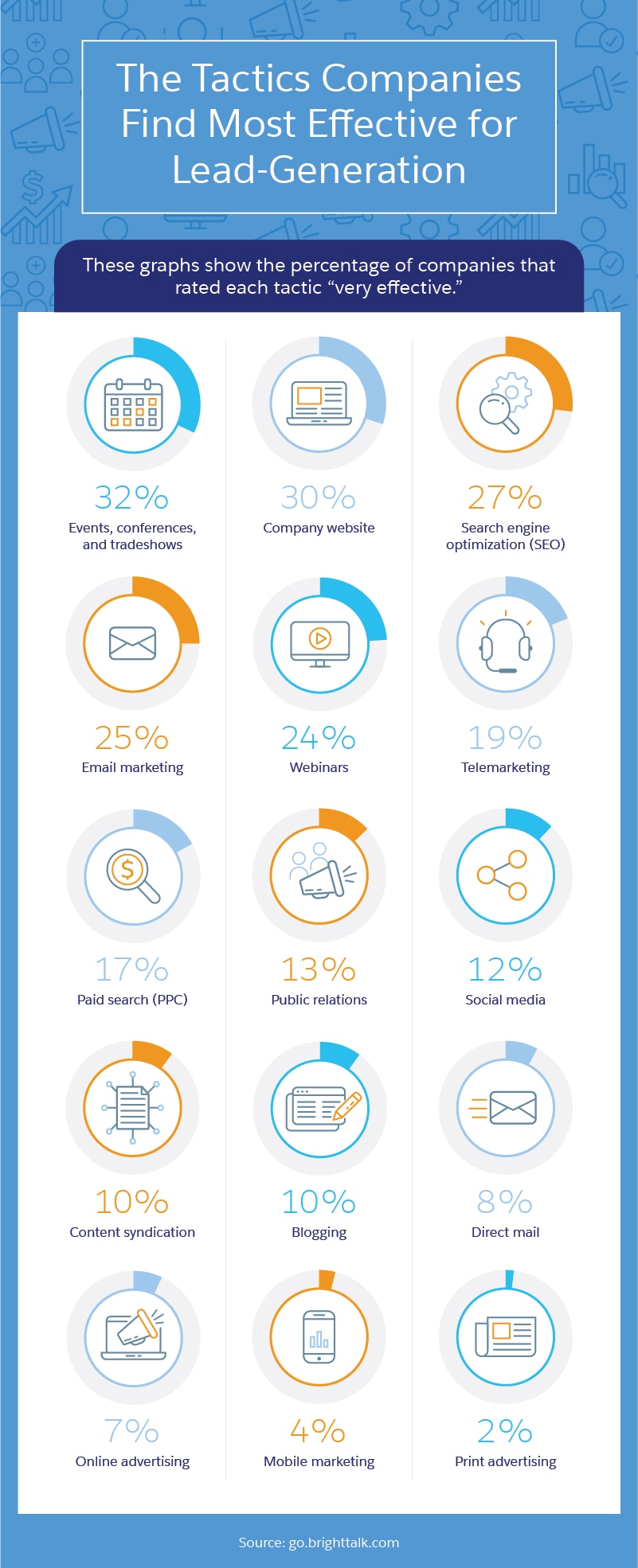 Lead Scoring
Lead scoring is a framework used by sales and marketing teams to determine a buyer's readiness to make a purchase. Lead scoring systems vary by brand, industry, audience, and other factors, but focus on four core areas:
Fit
Lead fit describes how well potential customers align with the brand's ideal customer or existing clients. These criteria help you determine whether it makes sense to dedicate resources to pursuing a lead and include the following:
Budget, Authority, Need, Time (BANT): Determines whether a lead can afford your solution, if they have the authority to make a purchase if your solution addresses a need, and when they'll need to have a solution in place.
Demographics: Again, demographics include things like title, location, company size, industry, experience level, etc.
Firmographics: Looks at the lead from an organizational standpoint and includes company name, size, annual revenue, and location.
Interest
Lead scoring also tracks audience behavior to get a sense of how interested a buyer is in your solution. You'll want to assign a score to certain behaviors to indicate which actions suggest that a lead still needs nurturing or is ready to make a purchase.
Behavior
Initially, you'll score leads based on data sourced during the identification stage–the behaviors, demographics, and trigger events your most profitable clients have in common.
For example, reading an introductory blog post will likely receive a low score, while downloading a white paper or viewing a pricing page will likely receive a higher score.
As your strategy matures, you'll want to continue refining these criteria based on campaign performance, customer feedback, and what sellers are hearing in their day-to-day conversations.
Buying Stage
Finally, you'll also want to score leads based on where they are in the sales process. The easiest way to think about this is by aligning lead behavior to top, middle, and bottom-funnel content.
For example, higher scores apply to things like signing up for a webinar, contacting a salesperson, and clicks on pricing pages.
Lead Nurturing
Just because someone is a "qualified lead" doesn't mean they're anywhere close to making a purchase. In fact, according to Marketing Sherpa, nearly 75% of leads are not ready to purchase upon entering the sales funnel.
Lead nurturing strategies guide potential customers through the pipeline by building strong relationships and providing the right information at the right time.
Typical lead nurturing strategies include the following:
Email marketing campaigns
Educational content
Events & webinars
Social media campaigns
Hand Off to Sales
Sales and marketing teams aren't always on the same page when it comes to what makes a lead qualified. For example, marketing might qualify anyone that responds to a campaign, but a sales rep is likely more interested in talking to those respondents if they're likely to buy.
When marketing and sales teams aren't aligned, you have marketers building campaigns around assumptions and sellers chasing leads that aren't quite the right fit.
But beyond building a profile that defined the best-fit buyers, both teams need to get together to define the point where a lead is sales-ready.
The Go-To-Market Playbook for Revenue Teams
The disconnect between sales and marketing is legendary. Here's how to align these two teams for the benefit of your buyers… and the bottom line.
Measure & Refine
Finally, it's important to note that lead management systems should be treated as an evolving strategy. Make sure you're continuously reviewing all available data and changes in behavior, demographics, and preferences.
Look at campaign data, buyer interactions, and how leads engage with your content.
What types of messaging drives the best results?
Are there differences between channels?
How much are you spending, on average, per lead acquisition?
Use this information to further define the difference between a buyer that is truly ready to buy or still in the nurturing phase.
The goal is to create a system where salespeople can prioritize sales-ready opportunities, while marketers can focus on answering questions and sharing relevant information.
Keep in mind, you'll need to have the right tools in place to monitor, measure, and refine your strategy, as well as apply automations that streamline the process. We'll cover that in this next section.
Lead Management Solutions
In the last few sections, we went over what a lead management strategy should look like. Once you've defined and documented who you're targeting and what makes them qualified, you'll need to think about finding the tools that best support these activities.
Lead management solutions can take a variety of forms, and the right tools depend on your budget, company size, and your sales and marketing processes.
That said, you'll want to assemble a tech stack that allows you to capture, qualify, nurture, and route leads to the right people and processes. And–you'll want something that makes it easy to analyze and act on relevant insights.
Lead Management Software vs. CRMs
Lead management software is a platform designed to keep all of your lead data in one central location, while also tracking their behavior, activity, and demographic information.
These platforms aim to give marketing and sales teams a collaborative space for managing leads and creating a unified experience across all touchpoints.
Customer relationship management (CRM) software offers a lot of the same capabilities as lead management software, though it covers the entire customer lifecycle. The benefit here is, not only can sellers focus on managing new leads, but they can also focus on retention efforts and opportunities to upsell.
The CRM acts as the central hub for all customer data–often sourced from a range of sources. You'll find new leads and deals in-progress alongside current customers and canceled accounts.
For some organizations, the CRM is a really effective way to manage leads. However, in some cases, a dedicated lead management system makes more sense (a good platform will integrate with your CRM, too).
For example, if you have a dedicated lead management team or a complex buyer's journey, a more focused platform may be a better choice.
Marketing Automation & Lead Intelligence Solutions
So let's be clear, marketing automation or lead intelligence tools don't replace the CRM or lead management software, but they're essential parts of any lead management system.
Marketing automation tools cover a wide range of activities–allowing marketers to create and automate campaigns across all relevant channels. By integrating with your CRM, and or, lead management software, you can connect data from PPC ads, blog content, social media campaigns, etc. with what's happening on the sales side.
You'll also want to use a lead intelligence system, which uses data mining to capture as much information on your leads as possible–allowing you to build more accurate buyer personas based on prospect behavior.
There's a lot of variation within this category, but some tools use AI to identify trigger events that suggest a lead is ready to make a purchase. Others track website behavior or focus bringing intelligence to the prospecting process.
Drift uses chatbots to capture lead data from website visitors and applies AI to the qualification and routing process to streamline the sales cycle.
Final Thoughts on Lead Management
Without a reliable system for getting quality leads in the pipeline, it doesn't matter what tools you use or how great your content is.
Done right, a lead management system helps organizations understand which methods deliver the best leads, which in turn, allows sales teams to optimize their strategy and reliably close more deals.
The Marketing & Sales Field Guide for Today's New Digital Normal
Learn how to weather the storm and emerge more resilient on the other side. Get the guide featuring real-world lessons from Drift, Gong, Acquia, and Outreach.